The role of the university has always been about more than scientific advancement and knowledge exchange. Universities contribute to local communities by acting as a forum for discussion and debate, by hosting public facilities and events, and by providing skilled labour for regional economies. Yet, university campuses have not always been attuned to this dynamic, and with the increasing globalization and commercialization of higher education, these connections between the university and its local context are diminishing. Or, as Thomas Bender notes in The university and the city , "The university has always claimed the world, not its host city, as its domain." 1
The Acton campus of the Australian National University (ANU) forms a major part of Canberra, occupying around one-third of the city centre's land mass. A 2018 review by Turnberry Consulting found that, in spite of its size, the campus lacks strong connections to the city, is often experienced as "dispersed and disconnected," and lacks a distinct campus identity. In response, a new campus masterplan was developed in 2019 by Arup, informed by a desire to strengthen the relationship between city and campus. BVN's Kambri precinct, at the centre of the campus, predates this masterplan, but the project's realization expresses many of the masterplan's intentions in built form. Kambri is the first in a series of planned hubs that will form the campus's structured public realm.
As part of a short design competition, BVN captured its intent for the revitalization of Union Court, as it was then known, through a series of visualizations. Often, a new campus precinct with multiple buildings is designed with a uniform architecture, a common material palette and language, or as a series of competing icons. BVN's approach was to create something more organic: a precinct that felt like part of the city, an urban ensemble in which there was coherence in built form, but where buildings had individual identities. This approach clearly worked. Expecting to design one or two buildings, BVN was instead awarded a contract for all six.
The Kambri precinct accommodates a wide range of different programs, typologies and activities. To the north sits the Cultural Centre, housing large-scale flexible performance spaces, a cinema, a drama theatre and the Ambush Gallery. Completing the urban block, and partially projecting above the gallery entrance, are two linear wings of the Fenner Hall student accommodation, clad in textured brick and concrete, with shared kitchens and terraces above grade. At the centre of the precinct sits the Marie Reay Teaching Centre, an articulated box of formal and informal teaching spaces, with an expressed timber structure and glass facade. To its east is the Di Riddell Student Centre. This consolidates student services in a sleek white block, with a delicate steel colonnade defining retail spaces at the ground level. To the west sits the curving Health and Wellbeing Centre, its shape mirroring the bend in Sullivans Creek beyond it. A pool and gym building is tucked behind the health centre at the southernmost point of the precinct, housed in a sleek box of bronze aluminium cladding and flush glazing. Tying all this together is landscaping by Lahznimmo Architects and Aspect Studios, including a gently undulating gathering space, a tree-lined promenade and terraced steps to Sullivans Creek.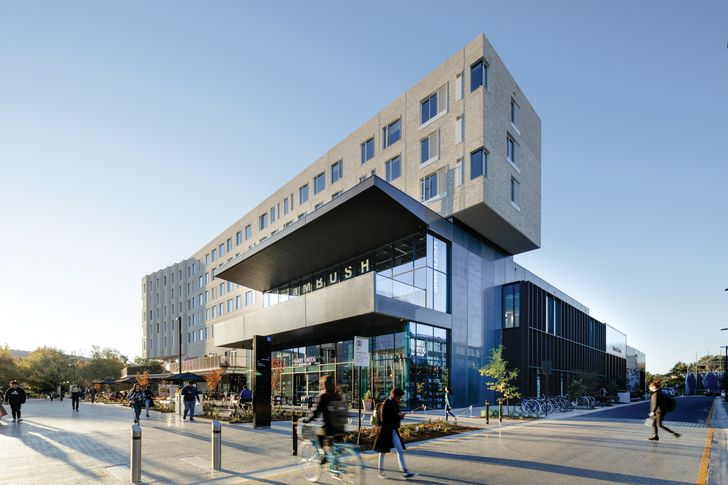 Such diversity of form, program and material could easily create disharmony. But the greatest success of Kambri is its careful architectural balance between coherence and variety. While each building has its own presence, subtle moves seek to tie the precinct together. In section, the public realm at ground level is supplemented by common terraces across level one, typically hosting shared student facilities. This provides activity above grade and fosters a dialogue between ground and upper levels. Porosity and connectivity are deftly handled. Cuts through the buildings – most notably a tall, gently curved slot where Fenner Hall meets the Cultural Centre – ensure ease of movement around the precinct, while a new bridge seamlessly connects the J. B. Chifley Library, completed in 1968, to the public realm, making the library feel like part of the cluster.
The precinct was gifted its name by representatives of the Little Gudgenby River Tribal Council, the Buru Ngunawal Aboriginal Corporation, the King Brown Tribal Group and the Ngarigu Currawong Clan, with "Kambri" meaning "meeting place." Its density is a reflection of this title, with a proximity of built form and shared public-student facilities not found elsewhere at ANU. This serves to create a critical mass of activities in both the day and evening, a hybrid piece of the city in a campus setting. Its programmatic mix, together with the revitalization of University Avenue, has begun the process of strengthening links between campus and city, although the ultimate success of this is dependent on future development to the east, an area that still feels sparse.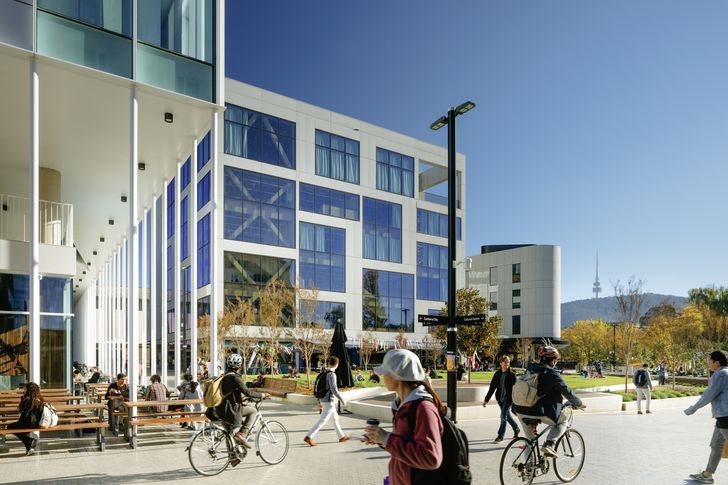 Spatially, the design of Kambri reflects a change at ANU, and in higher education more generally, toward more informal learning environments. With the rise of blended and student-centred learning, the traditional spaces of the lecture theatre and classroom have become less dominant in the university setting. Increasingly, learning takes place outside the classroom across a "learning landscape" of interior and exterior spaces designed for group work, social interaction and eating and drinking. 2 The Marie Reay Teaching Centre encapsulates this paradigm shift. The building consists of mostly open floor plates connected by a generous stair that wraps around the facade, linking together mezzanines across the six storeys. Seminar spaces are defined by glazed partitions, blurring the boundaries between formal and informal, teaching and circulation. Save for an amphitheatre at the base, furniture is not built in, allowing for a high degree of flexibility in how the spaces are used and adapted over time. At the building's apex is a large open floor, one-and-a-half storeys high, with exposed timber roof trusses and panoramic views of the city. The space has no discernible function and therefore multiple possibilities, be it for large seminars, events or simply a quiet space to sit, reflect and study above the surroundings. Its inclusion, and its openness, is an innately generous gesture in design.
In terms of procurement, the precinct was delivered to a tight budget and timeframe, with BVN novated by Lendlease during design development. Materials and technology were subsequently informed by a mixture of innovation and efficiency. Prefabrication was embraced throughout. Cross-laminated timber (CLT) was used as the primary structural material in both Fenner Hall and the Marie Reay Teaching Centre, as Lendlease found this would reduce the construction schedule by 30 percent. In the student accommodation, a concrete base forms a two-storey plinth from which CLT walls rise to form the structural elements of the student rooms above. The brick envelope was the first in Australia to be installed in fully insulated 13-metre-long facade sections, each in a rapid timeframe of just 20 minutes. While this building overtly expresses neither its timber innards nor its prefabricated construction, the benefits of both are apparent in the bottom line: a 60 percent saving in labour costs and a significant reduction in embodied carbon as compared to a conventional all-concrete approach.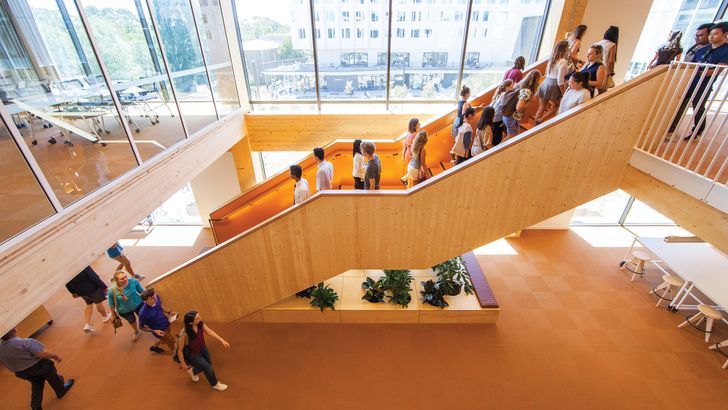 In the Marie Reay Teaching Centre, timber is used more extensively and is celebrated by its exposure throughout. The structure comprises a glulam frame of columns, beams and bracing working with CLT floors and lift-core walls. Joints are robust and honest, with the alternating light-and-dark layers of CLT visible at the edge of floor slabs. Services are also exposed, giving the interior an industrial vibe, but one that is tempered by the tactility and warmth of wood. Embracing low-carbon materials, prefabrication and dematerialization has resulted in notable sustainability credentials. An environmental audit of the precinct determined that its ecological footprint is 0.7 Earths, compared to 1.3 Earths for the average Australian university campus (this is a saving of 34,000 tonnes of greenhouse gases). However, there are places where the environmental performance seems less considered. The skin of glass-fibre-reinforced concrete panels and large expanses of glazing on the Marie Reay Teaching Centre lack the necessary depth and shading to respond to the extremes of Canberra's climate. The use of interior curtains is ill-suited to protect these learning spaces from high summer heat gains. Likewise, the west face of Fenner Hall student accommodation lacks shading to protect against the harsh afternoon sun.
In conclusion, the success of Kambri is one of an architectural balancing act between city and campus, coherence and variety, public and private. The ambition of mediating this balance, across multiple buildings and typologies in such close quarters and in a short space of time, is a significant achievement in design and delivery. The result is an almost instant precinct, which benefits from not feeling instant.