[ad_1]

Project description
To densify and develop Footscray in a sustainable way, while maintaining its eclecticism and cultural specificity, demands alternate typologies of urban planning. This project nurtures the entrepreneurial appropriation of space by local residents over time. It offers new ways of creating land on top of and within the existing building grain as wrapped forms, infill, bridging or reuse of space. The relationships created couple the permanent large civic gesture and the temporary stalls, the robust shed and the loose-fit shell building, the open parkland and the enclosed sports and educational facilities. Incremental urbanism creates an adaptable, open-ended language for future growth while retaining the smaller grain of inner suburban cultural diversity.
Sustainability is not necessarily about building performance or technology. Reusing and adapting the existing building stock not only preserves the material value in its embodied energy but also retains its cultural value. This project proposes a more complicated mix of community and leaseable facilities – a new model for staging, procuring and financing a project. It also proposes an urban environment where cultural minorities can remain, shrink or grow without being forced to the outskirts by increasing land prices.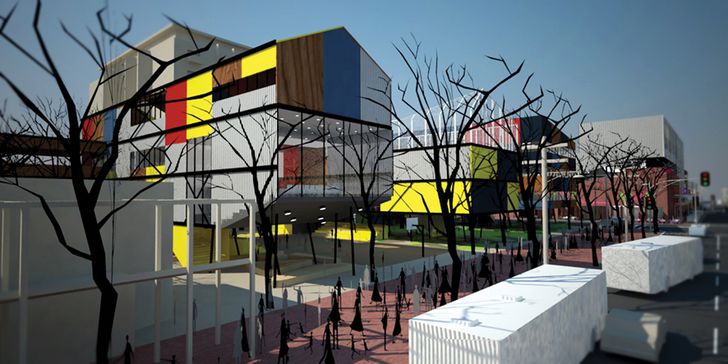 Jury citation
This engaging project explores an area of Melbourne that has not received a great deal of architectural attention, but which offers great possibilities. It takes the existing built environment and the communities that use it seriously, and builds a strategy for redevelopment on to and out of these found characteristics, both physical and cultural.
Footscray Fresh and Cheap interrogates the potential of subtracting elements within existing urban environments to generate more vital urban settings for everyday life.
It explores ideas of sustainability in the long term by working out ways that the various local communities and cultures might engage with and use the space over time. The resulting design provides a structure for things to happen within and, as such, is an open-ended proposition, which allows and encourages adaptation. Footscray Fresh and Cheap is a cohesive, intelligent scheme, which demonstrates an optimism in the city's potential to adapt and change beyond conventional systems.
Entries to the 2021 AA Prize for Unbuilt Work can be made via its website until 28 August 2020.
Winners will be announced in the January/February 2021 issue of Architecture Australia and on ArchitectureAU.com.
[ad_2]

Source link