[ad_1]

Architect's description
The year is 2050. The world is dealing with an ongoing environmental crisis. Rising sea levels have led to population displacement and a mass movement of climate refugees. Australia has resettled large numbers of people from the former Bangladesh and the now drowned islands in the Pacific. The private vehicle has been banned from central Sydney due to its unsustainable squandering of resources – including space. The central business district remains the commercial heart of the city, and the decrease in personal mobility combined with the increase in population means there is a huge demand for housing. People need to live within walking distance of their workplace and an extensive public transport system is now viable.
In a city where roads are no longer needed for cars – both moving and parked – an extensive and surprisingly spacious network of interlinked linear sites are made available for new infrastructure, housing and institutions. A new series of high, thin strip buildings are designed to run down the centre of what were roads. They have varying sectional widths depending on the width of the street and therefore provide a rich mix of housing types and levels of affordability. Apartment buildings are seven or more storeys, with common roof gardens. Additional services and facilities are needed for the increased population and wider streets are infilled with new hospitals and schools. Underground and multi-storey car parks are reused as water harvesting facilities, waste management plants and hydroponic farms.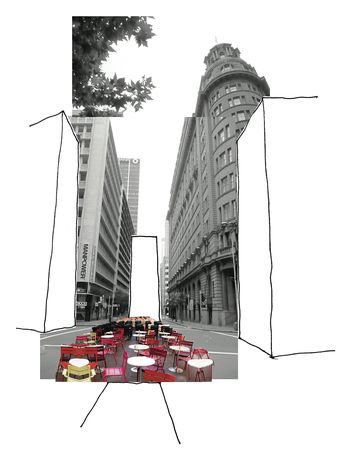 Martin Place is left without infill and becomes a great urban meeting place. The domain and Hyde Park are preserved as green spaces, but the grain of the city shifts entirely to something like the pedestrian scale of Venice. The number of lanes doubles, their width shrinks, and all roads are shared by pedestrians, cyclists, limited delivery vehicles and public transport.
Each of the old intersections has become an intimate new urban piazza. Across the whole city an overlaid filigree of these lively, characteristic pedestrian squares transforms the nightlife and street culture of the place.
With no cars, the streets are quiet and full of pedestrians. The ground floor of all new buildings is retail space, ensuring that the street level of narrow and intertwined lanes remains an active social interface. Sydney becomes a tightly packed, intensely dense, twenty-four-hour city – a stage for urban pleasures and urban life.
Jury citation
This provocative proposal changes our image of inner Sydney, inviting us to look differently at its urban form and the potential therein. It is a speculative scheme, based on a premise about massive change in Sydney's future – by 2050 cars and car parking will have been banned from the city, while the population will have increased substantially, with new residents having very different expectations of urban environments and densities. Working at the intersection of morphology and typology, this is an operational rather than compositional proposal. Full of ideas and inherent possibility, it reworks the grain of the city, showing how another civic paradigm might be overlaid on an existing urban condition. The proposal is beautifully drawn, making particularly strong use of Nolli maps, and is presented in a manner that helps the viewer access the ideas.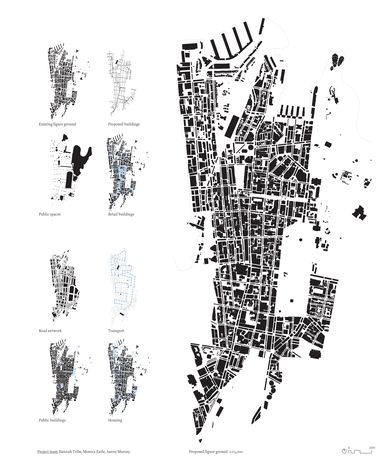 It is also an excellent example of the use of an unbuilt "paper" project to generate debate and discussion. The jury had some reservations about the building forms proposed – would they in fact be habitable? – and questioned the way that density is presented as a value rather than a fact. But the success of the project is found in the rigorous way it raises the question and responds to the opportunities generated. If we find some of the suggested outcomes alarming, then that might itself be food for thought.
Entries to the 2021 AA Prize for Unbuilt Work can be made via its website until 28 August 2020.
Winners will be announced in the January/February 2021 issue of Architecture Australia and on ArchitectureAU.com.
[ad_2]

Source link