Despite being described as a waterfront suburb, Sandy Bay – just outside Hobart's CBD – has a retail centre that defies this reference. An eclectic range of retail, hospitality and other service providers cluster around one main road, with little to define the place beyond the proximity between traders. Sisterhood, designed by Melbourne practice Biasol, carves a slightly newer path for this area and reclaims a waterfront feel in a large cafe just off the main shopping strip.
Fresh from a trip to Tulum, on the coast of Mexico, Jean-Pierre Biasol felt that the relaxed and charming interiors he had experienced on his holiday could be inspiration for this eatery, just a few minutes walk from a beach and marina. This aesthetic was a match with the business owner's brief for Sisterhood as a warm, accessible cafe welcoming a diverse clientele, from toddlers to grandmothers, with large groups just as easy to accommodate as solo diners. The owner also wanted an interior that matched the high-quality produce and food offering Tasmania is known for.
The designers were able to satisfy the owner's requirement of an interior space able to seat more than 100 patrons with a wide range of seating options. Those wanting a quick coffee can sit in the front window overlooking the street, laptop workers can tuck away in a few small nooks, larger groups can gather around a series of booths, solo diners can sit up at the bar and happy sharers can eat at a generous communal table. Dog owners are also welcome, with a special side door for pups and a few dog-friendly menu offerings. Matching the owner's original brief, the varied layout can absorb larger bookings without forcing out regular diners.
The coastal feel is present in the soft, earthy hues of the furniture and finishes, with a deep green marble server, faced in pale teal handmade tiles, as a major feature of the dining room. Rattan and bentwood chairs of various heights and styles define different seating scenarios in the cafe and bring a quietly quirky feel to the interior. Custom rattan screens provide privacy between booths and painted brick walls offer a neutral, textured backdrop. Wallpaper featuring tropical growth, paired with hanging plants and rattan light shades, help to lock all of the elements together and support layered views throughout the room. Tiny details, such as the custom leather grips on the bentwood chairs, bring quality and enjoyment to the parts of the space that diners touch.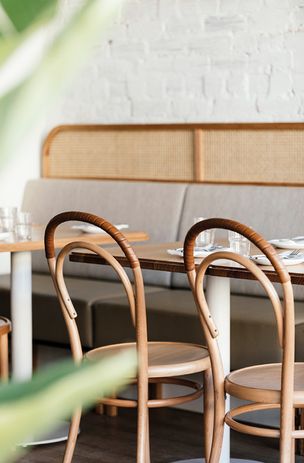 With Biasol also designing the brand, there is a sense of integration between all of the elements. While the tropical inspiration was at risk of feeling out of place in this small, temperate, Tasmanian centre, the designers have interpreted their Mexican starting point with a level of subtlety that allows it to land comfortably. The breezy, warm feel is an escape from the cluttered main road of Sandy Bay and seems more in keeping with the lifestyle aspirations of the suburb, where most homes look to the water, paddlers dip in and out of the bays, dog-walkers roam the beaches and joggers pace along the esplanade.