[ad_1]

If we are to believe the headlines, bricks-and-mortar stores are in trouble. With increased international competition and the ease of online shopping, it's not hard to see why so many retailers have recently shut their doors. But while some brands might be closing or downsizing, Aesop is going bigger.
With 220 stores across twenty-three countries, Aesop's most recent store, in Sydney's Pitt Street, is its largest yet. A big tenancy in the middle of Australia's busiest retail street is an unusual choice for a brand renowned for its petit stores in the world's trendiest neighbourhoods. But for the luxury skincare company, Pitt Street provided a rare opportunity to test out new services and ideas in a larger format.
Aesop's retail architecture manager, Denise Neri, is responsible for the management of the company's global architectural program, researching and liaising with new architects for each region it operates in. "Design thinking and the value of good design is central to everything we do at Aesop," Neri says. "In terms of architecture, every store we do is individually designed."
For Pitt Street, Aesop called on Oslo- and New York-based design practice Snøhetta. The architecture of Snøhetta is prolific; it is responsible for Oslo's Opera House, the rippling addition to San Francisco MOMA and even Norway's official banknotes. For the collaborative firm, its projects are "examples of attitudes rather than designs; samples in a series of contextual examinations rather than isolated masterpieces" and connection to place, context and culture has remained at the core of its work. It is an approach that resonates with Aesop, where no two stores are the same.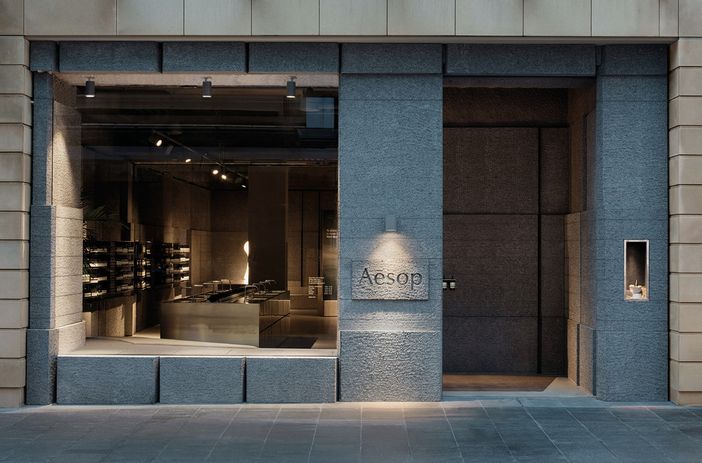 After working on Aesop stores in Oslo, London and Singapore – seven stores since 2014, in fact – Snøhetta senior interior architect Peter Girgis was brought back to work on the new Pitt Street location. During his first visit to Sydney in early 2019, he was introduced to the sandstone cliffs of Bondi and the grit of downtown Sydney, as well as Christo and Jeanne-Claude's Wrapped Coast , an extraordinary public art project that saw 2.4 kilometres of cliffside at Little Bay wrapped in more than ninety thousand square metres of fabric and fifty kilometres of rope for ten weeks in 1969.
These references to rugged grandeur, monumentality and swathed landscapes informed the Pitt Street store, where granite cloaks every wall of the vast space. Of course, singular poetic gestures are nothing new for Aesop. Pull up photos of any Aesop store in the world and you'll see a fine example of one material or idea referencing the local design vocabulary executed meticulously; for instance, the monastic order and tranquillity of the San Lorenzo store in Rome (designed by Studio Luca Guadagnino) or the translucent undulating fibreglass shell at the James Street, Brisbane store (designed by March Studio), which nods to Queensland's tropical climate and swimming pools. At the Pitt Street store, the granite is a surprising reprieve from the relentless bustle of Pitt Street just steps away. Used in a variety of textures, including line chiselled, bush hammered, leather finish and honed, the granite was chosen for its relationship to Sydney's pavements and coastal formations, but it also gives the space texture and permanence, its undulating rhythm reminiscent of a city skyline.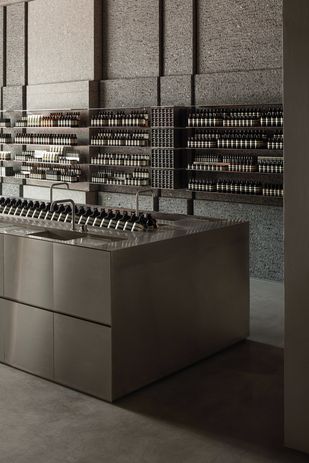 A large part of the brief was for the store to act as an escape for city workers rushing in during their lunch break. The entry is set back from the facade threshold, affording visitors mental repose from the crowded high street, as Girgis explains. "The entrance becomes this moment of decompression, this idea of taking the pace and slowing it down, including the pace of the person who is visiting. We want to give them the opportunity to stop and wonder, to invite curiosity."
Inside, the granite chamber instils calmness by absorbing light and providing a composed background. A vast, communal, stainless-steel sink at the centre of the store allows visitors to test products and sip tea during their stay. In what is a first for Aesop, a stepped amphitheatre, also made from granite, provides a space for in-store events such as readings and performances, or for a grand arrangement of daffodils, as was the case during my spring visit. A neighbouring screen projects the work of local digital artists and provides a moment of reflection. Three moveable sinks, designed more like dressing tables than basins, allow for leisurely private consultations. With flexible spaces, moveable elements and the luxury of space, this store enables the Aesop signature customer experience to be heightened and personalized further.
While Pitt Street marks an evolution in Aesop's offering, the brand experience remains paramount. It's why Aesop has continued to flourish in otherwise tough retail conditions. Bricks-and-mortar stores might be in trouble, but it seems granite ones are not.
[ad_2]

Source link